Adam Ulam was born in this apartment building owned by his parents, at 16 Ulica Kosciuszko in Lwów, in April, 1922



In family letters, his sister (left) Stefania, signed her name "Kitty Mama." His father (right) worried and warned his sons to take care while swimming in the sea and driving in automobile traffic.
His parents often signed themselves "Mamusia" and "Tatus."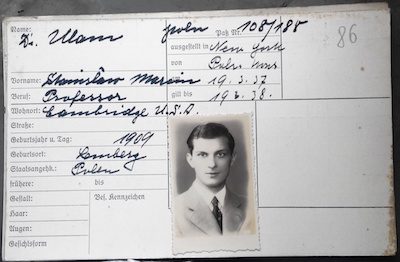 So few photographs survive from this period.


When Adam and his brother Stanislaw left Poland from the port of Gdynia in late August, 1939, his father and an uncle took the trip there to see them off. In the book Adam refers to his uncle Szymon, always the optimist, with the hint of a smile on his face. He was a member of the Lwów Judenrat. The Nazis sent him to the Janowska camp and then to Dachau, where he perished. Click for more information on the Judenrat of Lwów and Szymon Ulam.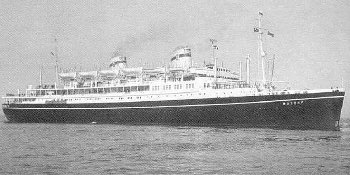 The M/S Batory was in service from 1936 until 1971. For the ship's history, use this off-site link. Press "back" on your browser toolbar to return here.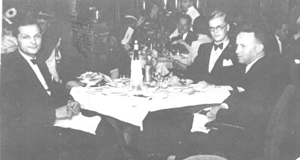 On the Batory, Adam and Stan encountered and had dinner with the mathematician Alfred Tarsky [r], who packed only summer clothes for what he thought would be a short visit to a conference in the United States.


After anxious days in New York, Adam entered Brown University College of Arts and Sciences later in September of 1939. The Providence Journal ran a picture of him looking at a paper bearing headlines about the bombing of Warsaw. Another photograph from this time shows him in a pensive mood [below, l.].

A favorite first cousin was Andrzej Ulam [r.], a brilliant young banker and bon-vivant, who wrote some of the most engaging letters that have survived. His visa to attend the New York World's Fair (1939-1940) saved him, but not for very long. He died in New York of pneumonia in 1941.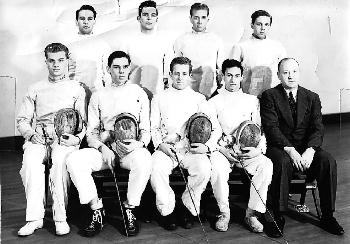 For the portrait of the Varsity fencing team at Brown, Adam sits in the front row, far left. This is from the school year 1940-1941.


A boyish-looking Adam sits in the courtyard of Eliot House, Harvard College, in the late winter of 1948. He had earned his PhD from Harvard in 1947.


Now well -established as a Harvard professor, Adam enjoys his family in these pictures from the late 1960's and one from 1990. In the photo on the left, his brother Stan is visiting from Los Alamos.